Auto Body Safety
In Regina, SK
Mission Zero
In addition to passing safety audits, LK Auto Collision employs the Mission: Zero industry philosophy. We've signed a pledge to accept its terms and encourage injury prevention, promoting a healthy, safe workplace. Safe Saskatchewan hosted an event to implement Mission: Zero, and we became one of 263 businesses to sign the Saskatchewan Health & Safety Leadership Charter. Our auto collision team sets an example for others within our company, as well as for other business to uphold the highest safety standards possible. The goal is to increase awareness that injuries are preventable rather than inevitable.
Motor Safety Association
As members of the Motor Safety Association, we have the resources to maintain our safety training through e-learning, webinars, printable checklists, and references for appropriate actions to take following an incident. Find out more about this association here.
In 2014, LK Auto Collision was a finalist on the Safe Employer Award Honour Roll. This recognition was given to our collision center because we uphold safety as a core value, exemplifying workplace safety on a daily basis.
COR Certification
LK Auto Collision Ltd is a COR Certified Company. To obtain this certification, we had to meet a high safety standard and pass a rigorous and detailed safety audit. The Motor Safety Association has determined that an effective health and safety system includes seven elements, from management leadership to emergency preparedness. The benefits of certification include decreased injury costs, improved employee retention, and much more. Read the full details about COR Elements here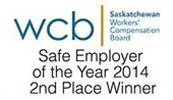 We work with the latest in auto body equipment
Call LK Auto Collision Ltd. today to learn more about this technology.